«Usable pasts»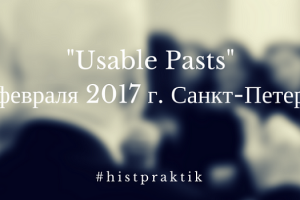 Организаторы конференции предлагают к рассмотрению несколько тем:
история памяти и исторические дискурсы в политике и личность политика;
национализм, культурное наследие и национализация прошлого;
репрезентация истории в символах в пост-имперских и пост-колониальных обществах;
сравнительная история имперского прошлого, имперского многообразия и наследия в разных странах;
культурное, природное и промышленное многообразие, включающее музеи, медиа-пространство, использование природы в историческом нарративе и памяти;
исследование коллективных травм и исторической справедливости;
междисциплинарные подходы в истории: экологическая история, история науки, интеллектуальная история, технологическая история, городская история, экономическая история, история и право.
Для участия в конференции до 17 ноября 2016 года необходимо зарегистрироваться на сайте НИУ «ВШЭ-СПб» (регистрироваться здесь), а также прислать абстракт на 600 слов. Рабочий язык конференции — английский. Ниже прилагается полный Call for papers конференции на английском языке.
Call for Papers
Senior Bachelor and Master's degree students in History are invited to take part in the International Student Research Conference which will be hosted by the National Research University Higher School of Economics in St Petersburg on February 2 – 3, 2017, in the framework of the Annual International Student Research Forum – Think Big Week (January 31 – February 5, 2017).
The working language of the conference is English.
History undergraduate and graduate students are welcome to submit paper proposals for the International History Student Conference 'Usable Pasts', organized by Department of History, National Research University Higher School of Economics, Saint Petersburg. It is a part of International Students Forum to be held in NRU HSE, Saint Petersburg on 4-5 February 2017.
The conference aims at exploring the dynamic field of history featuring both the efforts of various disciplines in dealing with the pasts and interdisciplinary approaches within the discipline of history. The conference embraces a broad variety of research themes, which deal with material objects in history and their meanings within the framework of heritage and memory studies on the one hand, and the politics of circulation of historically formed discourses of identity and legitimacy in present-day society, on the other hand.
• historical memory and historically-informed discourses of public politics and identity politics,
• nationalism, cultural heritage and nationalization of the past,
• comparative history of the imperial pasts, imperial diversity and imperial legacy;
• symbolic representations of history in post-imperial and post-colonial societies,
• studies of collective trauma and historical justice,
• Cultural, natural and industrial heritage, including public museums, media space, use of nature in historical narratives and memory;
• History in interaction with other disciplines: environmental history, history of science, intellectual history, technological history, urban history, economic history, history and law.
Registration form is available at the website of the International Student Research Forum – Think Big Week: (there will be one registration form for all Forum participants, address will be added later).
Submissions should be abstracts summarizing the work to be presented (max. length of abstract: 600 words of text without references).
An abstract should have the following sections:
Research Question / Objective, Conceptual or Theoretical Framework — length up to 150 words;
Methodology or Methods / Research Instruments or Data Sources Used — length up to 400 words;
Conclusions, Expected Outcomes or Findings — length up to 300 words;
References — length up to 400 words.
Submissions will go through a review process. They will be evaluated based on relevance and the potential to stimulate interesting discussions.
Participants' abstracts will be published in the electronic form on the website of the conference prior to the start of the conference.
Further information about the invited speakers and the theme-based sessions will be circulated in November 2016.
Participation in the conference is free of charge.
Travel and accommodation costs are at the expense of the sending party. Registered presenting participants will be able to apply for the free lodging at the University dormitory.
Important dates
Deadline for submissions: November 17, 2016
Notification of acceptance: November 25, 2016
Should you have any questions, please contact the organizers of the conference via email: ekhvalkov@hse.ru